When it comes to motorcycle gifts, it is not always clear what kinds of accessories are good to give, and what ones you should avoid. This is especially true if you don't ride yourself, or you want to surprise someone special with something awesome. This guide is designed to help you with your purchase, but when in doubt, you can always go with a gift card which may be used for anything. It's always going to be helpful to know the make and model of a motorcycle, but with most of these ideas it shouldn't be necessary.
Best Motorcycle Gifts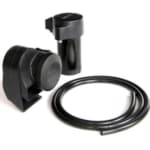 Horns ($30-55)– Stock motorcycle horns are awful. Like, they're really, really weak. Fortunately you can upgrade your loved ones to something larger, safer, and much more epic without a huge investment. The Denali SoundBomb ($50) offers 120db of ear splitting awesomeness, and is available as a split unit ($55) to fit bikes with not a lot of room under the fairings, or if you just want to keep it out of the way. There's also the SoundBomb Mini ($30) that while not as loud, will still offer a lot more noise with it's bell horn. Knowing the year/make/model of the motorcycle in question is a must for the air horns, but not as much for the SoundBomb mini.
Ear Protection ($30-$35)– Hearing protection is something that every motorcyclist needs. The problem with foam earplugs is that while they're much cheaper, they're also designed to block out everything. They're also not designed to be used multiple times, so you end up having to carry around more stuff. A set of NoNoise Motosport ($30) earplugs address both of these issues. With a dynamic filter, NoNoise earplugs filter out high and low frequencies, however you're still able to hear the things you need to hear, like sirens, horns, and and intercom system. They also come with a case and are washable, so they can actually last for years.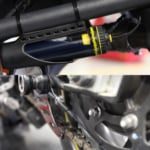 Automatic Chain Oilers ($140)– Lubrication is one of those things that riders (especially new motorcyclists) may not consider. Lubing your chain is kind of a pain. It's not necessarily hard, but it can be messy and time consuming. Fortunately Scottoiler is here to save the day. With a Scottoiler chain oiler, you keep the drive chain and sprockets on a motorcycle properly lubricated while riding automatically lubricate and increase the life of your motorcycle's chain and sprocket. Look for a hose leading to the rear sprocket to determine if the motorcycle needs one, or just the person ask how hard it is to oil a motorcycle chain. If they start going off about the mess it makes or how long it takes, a Scottoiler is probably the way to go. There are a few variations of this so be sure you know the year/make/model of the motorcycle.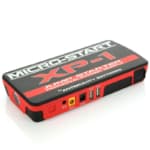 Battery Chargers ($40-$144) – A power bank is a great thing to have for any motorcyclist, but they're not all created equal. With the Antigravity MICRO-START XP-1 Jump Starter And Personal Power Supply ($144), you get something that's portable, powerful, and able to charge your USB devices all day as you ride. It allows you to keep your motorcycle battery tender free for other use on things like heated gear and a mounted GPS. PLUS –  you can actually use the built in outputs to jump start your motorcycle, as well as most vehicles. Not to shabby for a device that's roughly the size of two cell phones and weighs less than a pound. Also, every rider needs a battery tender ($40-$70)to keep their motorcycle charged over the winter months when it's in storage.
Communicators ($104-$275) – While riding, it's pretty great to be able to talk to the people you're out on the road or trails with. A communicator will let you do just that. The best one to gift someone is the Interphone Urban Bluetooth Communicator ($142.99). It has all the Bluetooth functionality you could want as a rider, so it can pump music, GPS instructions, or phone calls through the included helmet speakers and mic. It can also pair with other units making group communication a breeze.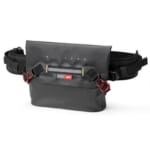 Waist Bag ($74)– If the motorcyclist you're looking to buy for doesn't have a lot of storage options, the Givi Gravel-T waist bag ($74) will be perfect for them. It's essentially a small bag you can wear around your waist facing frontwards or backwards. It's waterproof and large enough to store things like a wallet, house keys, electronic devices, among other things. It's also small enough to not bog you down or inhibit mobility. It's pretty versatile for it's size, won't break the bank, and will make a great gift for your friends and family.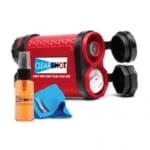 Lens Cleaner ($20) – Any motorcyclist will tell you keeping the helmet lens clean is one of the things required for good visibility. Because no one wants to ride around with more stuff than they need to carry, the Clear Shot lens cleaning kit is a perfect gift for any rider. It comes with bottle of lens cleaning fluid, and two microfiber cloths, one for large debris, and the other for fine debris. Because it can be used on visors, glasses and goggles, you can buy lens cleaner ($20) for any motorcyclist in your life.
Paddock Stands/Spools ($29-$109)– Most motorcyclists enjoy doing work on their bikes. Unless the person you're buying for exclusively takes their motorcycle to the shop for work, chances are they can use a paddock stand and set of front/rear spools . The spools will actually add a little extra protection in the event of a slide, and act as the mounting points for the stand. If storing for the winter, these are great to keep the tires off the ground to prevent rot. As long as the spools are there, you can buy a rear paddock stand ($109) or buy a front paddock stand ($109) for any motorcyclist.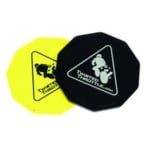 Side Stand Coasters ($4)– As a motorcyclist, we can all use these. They're designed to rest under a motorcycle kickstand so that it doesn't dig into the dirt or hot pavement. They look a lot cooler than a crushed can or flat rock, and if you have to many they can double as real coasters. You can safely buy a side stand coaster for any motorcyclist.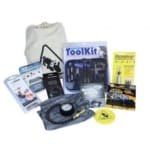 Motorcycle Rider Essentials Kit ($150)– Still not sure what might be ideal? Check out the motorcycle rider essentials kit! It's a great value, and is filled with all kinds of goodies that any rider is going to need at some point. This easy, one click gift for your friends and family is a great solution if you're just not sure what a rider needs, and it features a lot of the products in this list!
Gift Cards– You simply can't go wrong. Just go here to buy a Twisted Throttle gift card.