"There are millions of miles of roads on this earth, each and every one of them intersected with crossroads representing different paths, and therefore not all of us are supposed to take the fastest route. Slow down, recalculate, detour, wander or shift, because a roundabout can still get you to your goal, and believe me, sometimes that ride, that journey, that side trip adventure, will become much more important than your destination."

– Paul Pelland
When Paul Pelland, a.k.a. "Long Haul Paul," was diagnosed with Multiple Sclerosis, he thought his days of riding a motorcycle were over. After a few years without the joy only his motorcycle could bring, Paul decided that he would not allow this debilitating disease to control his life. In 2012, Paul's "road recalculated" journey began: a story of overcoming adversity and inspiring others and himself, proving that nothing is impossible, no matter the challenges that lie ahead.
Paul found his calling in life, and he named it the "Endless Road Tour." With great determination and guts, he has set a goal to ride a million miles on his motorcycle! He hopes by sharing his unique story, he will inspire others who face challenges in their lives, while also raising awareness and funds for MS research.
Paul first came to Twisted Throttle in 2013 to outfit his bike at the time, a Yamaha Super Tenere, to conquer the road ahead. Now on his second bike in the journey, a shiny new Super Tenere, Paul reached out to us again for help with getting the right gear. How do you make it through a million miles? You need accessories that contribute to the functionality of your bike and the logistics of riding long distances. You need to be comfortable, safe, and have enough storage. "When you travel weeks on your motorcycle, you need some place to put stuff besides your pockets," says Paul.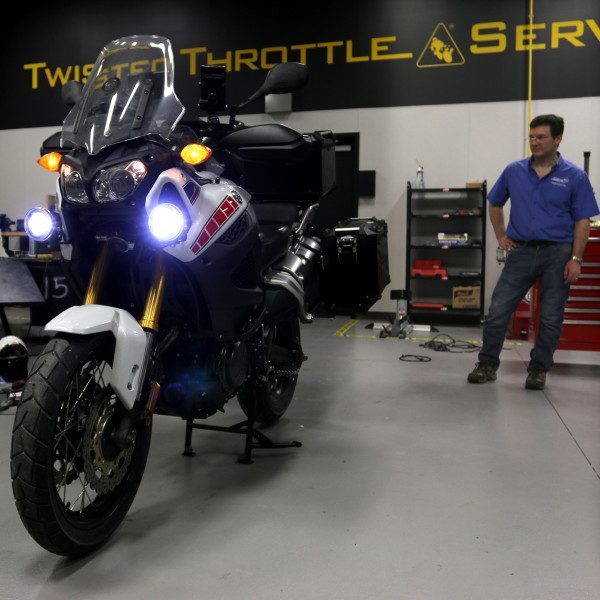 To safely and securely transport all of Paul's stuff, we started with a set of durable, waterproof SW-MOTECH TRAX ADVENTURE sidecases: one with a 45-liter storage capacity, and the other with a smaller, 37-liter capacity, to accommodate the high exhaust. The cases are supported by bike-specific EVO side racks that can be removed in seconds with the keyed quick-lock mounts. Made of strong tubular steel, the racks are designed to hug the bike, adding the least possible width to the tail. For more storage space, we added a TRAX ADVENTURE topcase, giving Paul an additional 38 liters for all the gear and equipment it takes to put a million miles on the road.
Since convenience is one of Paul's top priorities, we added an SW-MOTECH 12-volt Quick-Lock EVO City tank bag. The electrified top ring and accessory power socket let him keep all of his navigation and communication essentials charged. Paul often uses multiple GPS tools when traveling to conferences and rallies around the country, and with 12 volts of power at his fingertips, he can rest assured that he'll get to where he's going. Once he gets there, the Quick-Lock mounting technology lets him remove the tank bag with just a pull of a string, automatically releasing it from the bike. You can't get more convenient than that!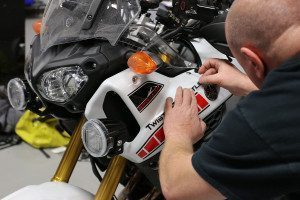 Riding long-distances is challenging enough, and riding with MS is the ultimate test. That's why comfort is critical for Paul. To help ease the miles, we added a MadStad adjustable windshield mount so Paul can get his shield in the best possible position for wind protection. The MadStad mount adds adjustability of up to 3" in height and 25 degrees of tilt angle, to help smooth out airflow and eliminate turbulence. A KAOKO™ throttle stabilizer will reduce stress and fatigue on Paul's right wrist and hand by functioning as a lockable cruise control. For more flexibility while still reducing wrist fatigue, just dial back the tension on the lock, and the KAOKO unit will smooth out throttle response while giving you the ability to adjust your speed. Speaking of stability, we also added TechSpec Gripsters to the Super Ten's tank. These pads give your knees a firm grip on the tank, to help keep your  body from sliding forward or backward during a change in acceleration. There are all kinds of ways to create more stability on your motorcycle, resulting in a safer riding experience.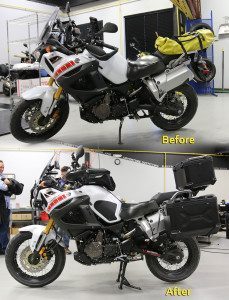 Safety is key for every motorcyclist, and visibility is a huge factor.That's why we added the Denali Soundbomb dual-tone air horn to Paul's bike. It's four times louder than the factory horn, blasting out an ear-piercing 120 decibels! We want Paul not just to be heard by surrounding traffic, but to see and be seen as well. So we added a set of Denali DR1 LED auxiliary lights — these are our high-speed, highway visibility specialists, throwing light 695 feet down the road. We enhanced the DR1's with snap-on wide-angle beam filters that both broaden the field of view and protect the lights from rocks and other debris.
All of these products we used to outfit Paul's Yamaha will provide him with the storage, convenience, comfort, and safety he needs to continue challenging himself. The Endless Road Tour is a testament to the determination one man can have to break through the boundaries and expectations of those who suffer from degenerative diseases — or any obstacle. We're proud to have some small part in helping Paul meet his goal, and we look forward to continuing to support him in his million-mile journey. You're an inspiration to us all, Paul!