Even with temperatures dropping and snow hitting the ground, we're always thinking about two wheel adventures! Where to go, what to wear, and how to outfit our bikes for the best possible ride. While we kick back with cocoa in front of the fireplace, we're reflecting on all the great new products that came through our doors this year…and all the cool new gear we'll be testing out in 2017. Here's a look at some of the items topping our list.
BEST OF 2016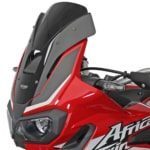 MRA Sport Screen for Honda Africa Twin: This is one of the best-looking screens we've seen from MRA yet. It gives the venerable Africa Twin a sportier, edgier look while providing better aerodynamics and a more low-profile fit than the stock shield.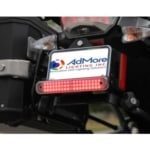 AdMore Lighting Premium Light Bar with Smart Brake Technology: Your not-so-secret weapon for avoiding rear-end collisions! A programmable accelerometer activates your brake lights upon deceleration (via throttle roll-off or downshifting), alerting drivers behind you that you're slowing down before you even hit the brakes.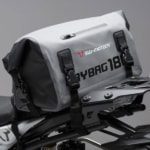 SW-MOTECH Drybag 180 Tail Bag: This is one of our staffers' favorite all-around pieces of luggage, owing to its convenient size and quick mounting. It holds plenty of stuff for commuting or day trips and fits easily on most rear seats. It's also easy to carry around when you're off the bike.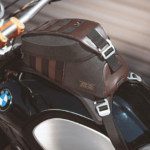 New Legend Gear line from SW-MOTECH: Everyone drooled over this gear when it arrived in our shop last spring. Waxed cotton, synthetic leather, and classic styling give this luggage collection a distinctive look that fits perfectly on retro bikes. The Legend line combines its vintage aesthetic with modern technology, incorporating bike-specific, quick-release luggage racks and a Molle accessory attachment system. Nothing like having the best of both worlds.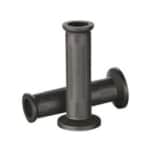 Ariete BMW Replacement Grips: If you own a BMW, you're well aware of how much even small, seemingly simple parts like hand grips can cost. These soft, vibration-reducing grips from Ariete are a direct replacement for the stock rubber, and will fit newer and older BMWs with or without heated grips. And they cost less than 40 bucks! For the pair!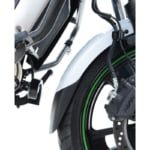 R&G Fender Extenders: An incredibly simple solution to a very common problem: keeping dirt and debris from flying up from your front wheel and whacking you and your bike. This easy-to-install accessory protects expensive parts like radiators and header pipes from getting dinged, and helps keep dirt and water from being flung at the rider as well.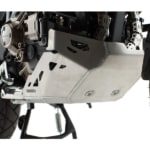 SW-MOTECH Skid Plate for the Honda Africa Twin: The designers at SW-MOTECH clearly expect this bike to take some abuse. This is the beefiest skid plate the company has produced yet, made of fully welded, 5mm-thick aluminum. New rubber spacers between the plate and the engine case help absorb the forces of impact to reduce the chances of damaging your bike.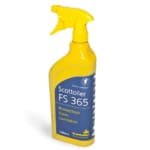 Scottoiler FS365 Corrosion Inhibitor: This is probably one of the easiest ways to take care of your motorcycle — just spray it on after washing, and let it do its work. This spray works its way into hard-to-reach places on your bike, leaving a protective film behind. Formulated with mild alkalis and pH buffers, FS 365 balances out acidic atmospheric elements, effectively preventing corrosion on plastic, metal, rubber, carbon fiber, and anodized surfaces.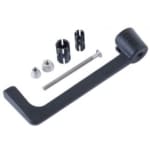 R&G Universal Fit Lever Guards: These guards have the same premium design as the carbon fiber version, but are made from a tough, flexible grade of nylon, with new color options and a lower price tag. Since lever guards are now required by most racing organizations, we're glad to see a high-quality, affordable option for racers. These guards are valuable on the street, too, for the same reason as racing: They prevent accidental lever activation in close-quarters riding.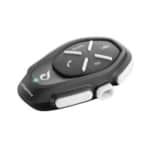 Interphone Urban Bluetooth Communicator: We like the simplicity of this communicator — it has the primary functions you need, and nothing you don't. Listen to music, get navigation from your GPS, take phone calls, and communicate with another rider or a passenger (short range). Voice commands and Quick Touch buttons let you focus on traffic, not fumble with your equipment.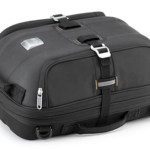 GIVI MT502 Metro-T Rear Bag/Backpack: We can easily picture you professional commuters or discerning day-trippers making good use of this bag. It's super convenient to pack and carry, and stylish to boot. Designed to mount to the rear seat, it also has top and side carrying handles and tuck-away backpack straps. Multiple openings and compartments offer easy access to your stuff; the main compartment even zips open like a suitcase.
Scottoiler eSystem Electronic Chain Oiler: Drop the can! This device keeps your chain clean and lubed while you ride. The electronically pumped chain oiler uses MotoGP-derived technology to monitor engine activity and dispense oil to your chain. A bar-mounted display lets you quickly adjust the flow rate for different riding conditions.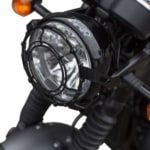 SW-MOTECH Headlight Guard for Triumph Bonneville T120: This is, hands-down, the most attractive headlight guard we've seen for the Bonnie. While others look like cages, partially blocking the light and not really doing much for the styling, this piece from SW-MOTECH manages to provide protection and a cool retro look, in keeping with the look of the bike.
New & In Stock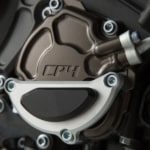 SW-MOTECH Engine Case Sliders for Yamaha FZ-10: Just because something is rugged doesn't have to mean it can't be slick. These anodized sliders do a nice job of complementing — and protecting — the FZ-10. SW-MOTECH does a great job in general with their sliders: the company uses high-quality, high-strength materials molded into sleek designs, with a perfect bike-specific fit.
Kaoko Throttle Lock for Triumph Thruxton 1200 with Bar End Mirrors: One thing we love about the throttle locks from Kaoko: they're often designed to work with other accessories, like handguards or bar-end mirrors, meaning you don't have to choose between having one or the other. This unit has a specially designed spacer so you can mount the mirrors on the ends of your handlebars. Kaoko throttle locks are simple to install and easy to use, and provide much-needed relaxation for your wrist.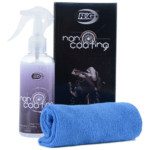 R&G Nano Coating Bike Cleaner & Protector: This state-of-the-art, water-based formula is safe for any surface. It repels water, dirt, and oil, making cleaning your bike an easier and less time-sucking proposition. This spray also helps prevent paint fade and oxidation, so your motorcycle will stay shiny and new-looking longer.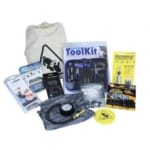 Motorcycle Rider Essentials Kit: We came up with this right before Christmas, while trying to figure out what to buy for all of our riding buddies. This convenient collection of motorcycle must-haves is a great gift for others, or a nice way to treat yourself! We combined simple solutions for a variety of situations, to keep you safer and more comfortable while you ride.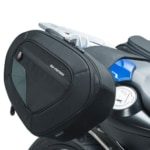 SW-MOTECH Blaze Saddlebag Kit for BMW F800R: One of our best-selling saddlebag systems, now available for the F800R. The Blaze bags use a simple support-arm mounting system that can quickly be removed to go back to your bike's stock look. The rigid textile bags slide on and off the arms in seconds, with just two buckles to secure them to the bike.
Scottoiler TMX 365 Off-Road Protector: Made specifically for off-road use, this spray will help you clean less and ride more. Spray it on a variety of surfaces to provide a barrier against corrosion and oxidation. A blend of mineral oil, surfactant, anti-corrosion additives, and water, TMX 365 is designed to be reapplied often, building a protective coating that can be buffed to a nice shine.
Galfer Steel Braided Brake Lines for Honda Africa Twin: Steel lines are one of the best upgrades you can make to your bike to enhance performance (and, to a degree, your confidence). If you're planning to ride your Africa Twin with gusto, we recommend you go with the Galfer lines. Their quality is unsurpassed in the market, and you'll find that the lines significantly improve both brake response and feel.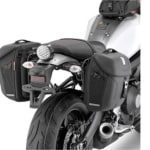 GIVI Metro-T Multilock Side Carriers for Yamaha XSR900: Clean and simple is the theme for GIVI's Metro-T collection, and we like the direction of this line. The bags have a sleek, modern look and convenient features, while the racks provide a fast and simple on/off solution for the savvy traveler.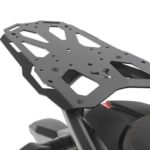 SW-MOTECH Steel Rack, Ducati Hyperstrada & Multistrada 1200/S: This popular, sturdy rack lets you mount many styles and brands of top cases as well as soft luggage…not to mention a fuel carrier or water pack. Frankly, with all the tie-down options and the optional expansion accessory, you can strap pretty much anything to this rack (weighing 16.5 lbs or less, that is).